New here? swingstep.tv has moved to SwingStep.com! You can find our Online Pass (formerly Full Pass), with access to all our online courses and live sessions, from there.
For existing subscribers: We'll keep access here on swingstep.tv until at least December 2022, so that you can transition to the other site when it's convenient for you.
Online Pass
Get full access to all our online courses! That's 90+ hours of instruction videos covering beginner to advanced content AND it includes all online activities.
You have a first month money back guarantee
and you can pause or cancel anytime!
Online Pass includes:
You'll also have a first month money back guarantee and you can cancel anytime!
Need a discount in order to afford the program? Learn more about our "Pay it Forward"-Fund here
Invite your friends to join the fun! Just direct them to swingstep.com so you can meet them in our sessions.
Online Activities:
Train Together: Training is more fun together… In these sessions we meet online, and together we warm up and get into the training spirit. Then we work independently – you can choose a swingstep.tv video to use for your practice, pull out a dusty workshop recap to work on, or anything else you fancy. You're welcome to ask for feedback or help from us during these sessions. Plus, just knowing that we're in it together can make us all more motivated to stick to our training and make it so much more fun and connected.
Jazz Roulette: a fun way to train your solo jazz! The roulette wheel gives us the random moves of the day, we'll train them together, and we'll even create some fun combos out of the moves we trained.
Jazz Routine Practice: it's important to keep up with the classics 🙂 Each session focuses on one classic jazz routine (such as the Trickeration, or Tranky Doo, etc.). We'll work on it together, you'll get the chance to practice the choreography as well as get tips to focus in on transitions or style. These sessions are mainly intended for you to practice and train a routine you already know at least a little bit – if you haven't done it before you're welcome to join but be ready for a challenge 😉
Specials: Occasional special events will be DJ Battle of the Bands, or a game night, or… anything else we can think of to spend some time with you ;P
Feeling shy with Zoom? You can join and keep your camera and mic off. It will be just like streaming.
Live Activities Schedule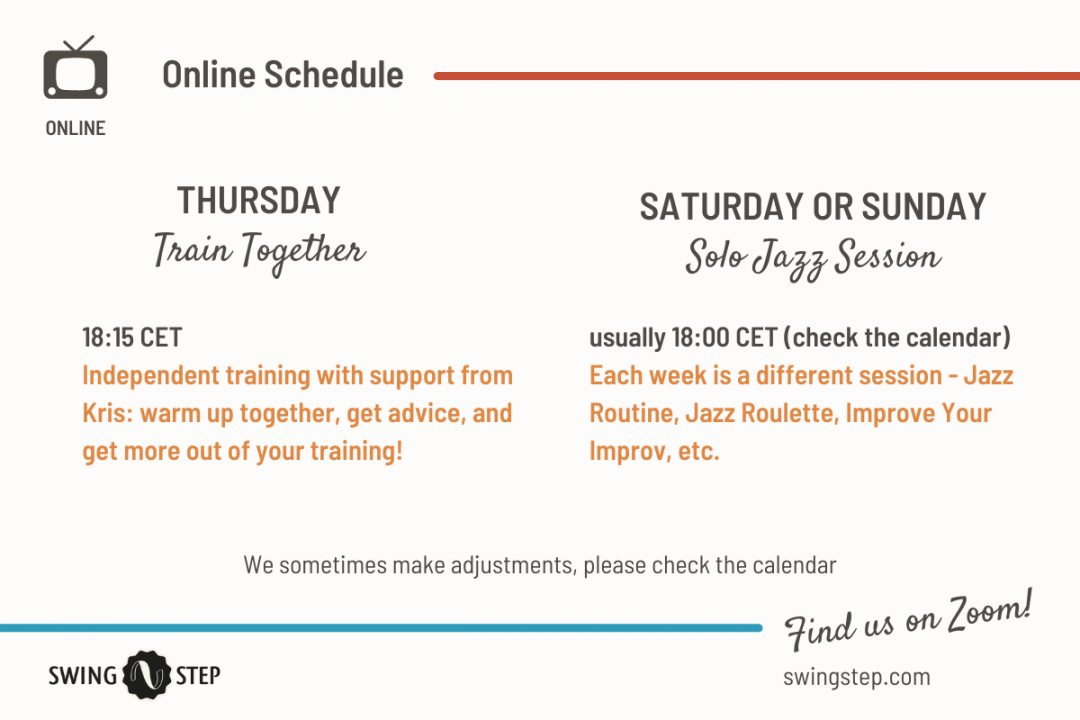 Zoom Session Time Table
---
"We really enjoyed the first video class at home. The format of having one long video for the whole session made it feel like being in a normal class with the additional benefit of always having the perfect perspective to the teachers. We liked it, that we didn't have to press play and pause so we could focus only on the instructions and on dancing." – Golnoosh and Samuel
Unique Pedagogy
We have developed our own unique pedagogic methods. Our students' feedback is that they feel comfortable and enjoy every minute of the class. The most named word in our feedback forms is fun! For more credentials, click here.
About your teachers
In these courses, you'll get to know Kris and Ali, two passionate swing dance teachers from Germany. To learn more about them, click here.
Questions?
Do I get support from a teacher if I don't understand the video? How does the payment work? In what language do you teach?
To get answers to these and more questions, click here.